Library
Courage for the First Day of School
Joshua Jude Summa
It's a bittersweet time, summer is over, school is about to start, but also a time of worry and fear. Which teacher will I get? The child's imagination runs wild, hoping for the best, but imagining the worst. Can some of these teachers really be as bad as he has heard? Test's everyday, mysterious disappearances, biting the heads off mice?
Only the first day will tell!
Jovie Jade and the Monster Under Her Bed
Bennion Ellsworth
Jovie is a very brave girl, she is not afraid of anything! There are a few things that make her uneasy, like math tests and making new friends. As she struggles through life help comes from the most unlikely of places, the monster that lives under her bed!
Ebony Nicole
Explore a whole year of giving with your children. Each month, you and your child will have the opportunity to serve those inside and outside of your home. Your children will enjoy the writing activities for each section as well. GO big, GO, strong, GO All Year Long!
Pablo the Pig Learns Manners
Sydni Mahaffey
Illustrated by Laura Fleming Summa
Pablo is a pig who enjoys spending his free time with his friends, Cathy the cat, Freddie the fish, and Mia the mouse. When Pablo presents himself with poor manners at a dinner party, Cathy, Freddie, and Mia step in to save the day!
Winston the Well-Dressed Wombat
Jenna Greene
Illustrated by Emily Zieroth
Winston the Wombat loves to share what he knows, how to clothe all his friends wherever he goes.
Take a fun little journey with Winston to see, all the dressing suggestions he gives out for free.
Steve Soderquist
What happens when a peaceful kingdom, ruled by a kind King, is threatened? You'll discover big things can come in small packages.
Laura Ranger
Rayne Martin is a typical teen excited to go off to college. However, the school she chooses at random is anything but typical and she begins to doubt she will ever fit in at Brighton College. Rayne grew up in the Bible belt and attended church whenever her parents wanted her to. She considered herself to be a good Christian. When she truly commits to being a believer, she embraces the fact that she is a daughter of the King and therefore, Royalty. Now God is calling on her to wage war against the demons and Satanists threatening to overrun Brighton. Rayne is sure He is mistaken. How can someone who has never even been in a fight lead in battle? Where will she find others willing to risk their lives to stand with her against such evil?
Hot Chocolate (Plus Bonus Story from Laura Ranger)
Steve Soderquist
Do you believe in miracles?

Cara and Lane lost their parents on Christmas Eve five years ago to a boating accident off the Gulf of Mexico. Every year since, they've continued the tradition of buying hot chocolate from Jimmy's Donut Shop and taken them to the pier, their pier, to say a prayer and leave the two cups for their parents to come down from Heaven and collect.

When two strangers showed up and the cups of hot chocolate left on the railing went missing, further investigating led the girls to a discovery they couldn't have imagined in their wildest dreams…

 Miracles at Christmas can and do happen.
DARK PRISONER: THE KRUTHOS KEY
D. THOMAS JERLO
Imprisoned for over a thousand years by the Diveneans of old, Lord Balthazar covets one thing: his freedom. Using his minion, Isafel, and an evil imp spawn called Ilio, they will search Etharia for the one thing that will set their master free and bring chaos to the lands—the Kruthos Key.
With underlords scheming to take the throne and demons roaming freely throughout the land, it's a race against time. But one Divenean still lives, and with the help of an ex-General there may be hope left.
But is it enough?
D.THOMAS JERLO
It's a helluva job, but someone has to do it…
And for Rhune it's a small price to pay for his past sins. He's taken a new name and a somewhat normal life, except at night when he transforms into a hellhound to take souls to the City of the Dead for purgatories legions to deliver them to Hell. For fifteen centuries he's lived in happy solitude until Hanna, a paralegal with the most amazing eyes, rear ends him in the small town of Rio Morden. He's seen those eyes before, but it's been years since the last time. Now she's all grown up and involved in a murder trial that has its sights set on her becoming its next victim. What's a hellhound to do? Surely not fall in love—and certainly not with a Dreamwalker. And is that all she is?

Mix in a diabolical lawyer and his lover, some Voodoo magic, and it's a recipe for mayhem and murder.

Can Rhune keep Hanna safe, or is she destined to be Hellhound Bound?
Milk and Honey on the Other Side
Elizabeth Guider
In a rambunctious river town unsettled by the Great War and up-ended by change unlikely lovers are brought together—but dogged by inescapable bigotry. Despite the dangers, the heroine defies her southern upbringing; the hero fends off his inner demons. For family and friends, race becomes a litmus test, each revealed by his responses to the chasm which separates black from white. Can that divide—widened by distance, a disastrous marriage, the devastation of the '27 Flood—be overcome?
With underlords scheming to take the throne and demons roaming freely throughout the land, it's a race against time. But one Divenean still lives, and with the help of an ex-General there may be hope left.
But is it enough?
David Boiani
What if real life scenarios were far more horrific than fantasy? What if you could visit the dark, unsettling mind of one man and experience the disturbing stories that originate there? These stories are unconnected, but they all include a similar trait: Fear. They are all based on aspects of life that are haunting yet very real. Experiencing these stories will induce a terror that will stay with you long after the final page is turned…
David Boiani
You are invited to take a journey. A journey that is sometimes enlightening, sometimes morbid, sometimes light, sometimes dark, sometimes based in fiction and sometimes all too real. These stories will upset you, captivate you, make you laugh and cry and may even effect emotions in you that you never knew existed, however, as different as they all are they are seemingly all connected in our hearts and souls. They possess a deeper theme that brings a frightening reality to the heart of every reader.
David Boiani
What if a man lost his moral compass between right and wrong, good and evil, mental stability and insanity?John Corbin has been investigating, catching, and convicting murderers, rapists, and pedophiles for twenty years as a Seattle detective. But lately, someone has been beating him to the punch and eliminating these vile criminals before he can apprehend them. John is learning that there is a thin line between innocent or guilty, good or evil, alive or dead. By definition, a thin line is a very narrow division between two alternatives. Some being exact opposites, while others are separated by the narrowest of threads. This novel follows this definition to the letter. In life, many situations aren't just black or white. There is usually a modicum of grey to fill in the space. Who is right? Who is wrong? Who is good? Who is evil? Perhaps everyone at one time or another lies somewhere in the middle.A Thin Line is a tale that will immediately draw you in and keep you guessing. A suspenseful psychological thriller with twists and turns that will toy with your mind and emotions, driven by a chilling narrative that builds the tension right up until its explosive conclusion.
David Boiani
Four years after serial killer, Silas Alvah shook the city of Seattle to its core…
Retired Detective, John Corbin has settled into his life of husband, father, and restaurant owner. However, detective work is embedded in his heart and soul. The pull has never left him.
John is drawn out of retirement because of a disturbed killer's twisted game, using human beings as pawns. He will have to risk everything returning to the horrors of work that left him scarred. Someone must at least attempt to save the innocent from evil.
The Redemption is a twisting, turning labyrinth that will take you on a thrill ride unlike anything you have experienced before, as each life is measured by our most unforgiving enemy…time.
David Boiani
What if the Fountain of Youth was real? Humans have always been obsessed with aging and death. Throughout history, the quest for a way to remain forever young has consumed mankind. What if two men stumbled upon a way to ensure eternal youth? What if it changes their lives, not only for the better, but in ways they never could have imagined? Immortal is a story filled with adventure, mystery, and thrilling twists. Follow these men as they stumble upon not only their greatest discovery, but possibly their ultimate undoing.
Steve Soderquist
Ten years ago a little girl was supposedly murdered. Ten years ago, that little girl got away. Now after eight years of living on her own, feeding from garbage cans and doing what she must to survive and still remain anonymous, the lies that had been told to her have led her; her sense of vengeance and retribution, back to the doorstep of whom she considers to blame. Those who stand in her way receive nothing of mercy, as her relentless pursuit to exact revenge on those who robbed her of her life come to a chilling close as nothing will stop her…And no one is to be spared.
Elizabeth Guider
Spanning the last fifty years, this family saga focuses on three generations of women, who grapple with sex and marriage, the elusiveness of success and the power of love to get them through tough times. Told chiefly from the alternating points of view of two sisters who come of age in the 1960's, the story takes us from Princess phones and prom dresses to the Vietnam War, women's lib, the lure of Hollywood, 9/11 in Manhattan—and a family emergency like no other. Throughout the years the sisters often misread their own hearts or are mistreated by those they care about. When real crisis arises, they are challenged to summons their better angels. But can they?
Elizabeth Guider
Spanning the last ten years, Elizabeth Guider's unflinching but empathetic novel about finding yourself after divorce is a modern-day anatomy of love…

"We make a living by what we get; we make a life by what we give."

Dr. Ashton Mather Cole and his wife, Dr. Deidre Durrell Cole, are two college professors in a small Ohio town with a seemingly perfect marriage. But when Ashton's love affair with one of his students comes to light, everyone is left rattled, aggrieved, or bent on revenge.

Over the course of ten years, they and those around them strive–sometimes painfully, sometimes comically–to right themselves. New relationships don't come without their own false starts and sorrowful stops. Until…
Richard P. Allison
A #1 Best-selling New Release in Pharmacy!
Do no harm?
There is an innate trust built into us since childhood that our doctor spent years learning and studying how to help people. But what if that trust is broken? Are they all brought to justice for the confidences they've betrayed and the countless lives they've helped ruin?
In Healers or Dealers?, readers get a front-row seat to the jaw-dropping true accounts written by the retired investigator who experienced them and attempted to hold these doctors accountable. His stories show a direct correlation between doctors' questionable conduct with illegal administrating, dispensing, and prescribing of opioids and the craze that plagues our nation today. Couple this with the addictions that unwaveringly rival those we see in the worst of America's inner cities…
and a pharmaceutical opioid epidemic is born.
Painting Life With Words of Encouragement
Tony Amico
In Tony Amico's debut work, he takes the reader on a poignant and thought-provoking journey with his musings on self-discovery and the meaning of life. Follow along as he delves into his inner-turmoil on the darkest of days, and then pulls you into a place of hope and inspiration as he colors your world with words of encouragement.
President Eisenhowers Close Encounters
Paul Blake Smith
How do past U.S. presidents avoid global panic?
Create a secret agreement with visiting extraterrestrials.
This well-researched, nonfiction book will give you a detailed, logical look at the most exciting presidential saga ever.
Follow along with researcher/author Paul Blake Smith as he pieces together an explosive puzzle, which reveals that President Eisenhower met with friendly aliens, and that other American presidents likely renewed Ike's secret agreement with the visitors, who remain aloof to this day, to avoid triggering social chaos.
You won't see the UFO/ET topic the same way after this read.
Practical Tips for Every Author
Steve Soderquist
'Practical Tips for Every Author' is chock-full of one hundred hints, tips, tricks, lessons, and many other facets of the writing industry in this all-in-one tutorial book. Covering everything from grammar, punctuation, prose, style, parts of speech, and composition to marketing, formatting, tips on query letter writing, submission guideline help, assistance with the legal in and outs of publishing – to writing the dedication, blurb, acknowledgements—and everything in between! Over three and a half years in the making, Steve Soderquist has stuffed one book full of everything the beginning author needs to get his or her book written, edited, formatted, sent to publishers or self-published, distributed and marketed. An extremely handy guide for the experienced author as well, to brush up on key components for all things book-related. Add this helpful guide to your library today!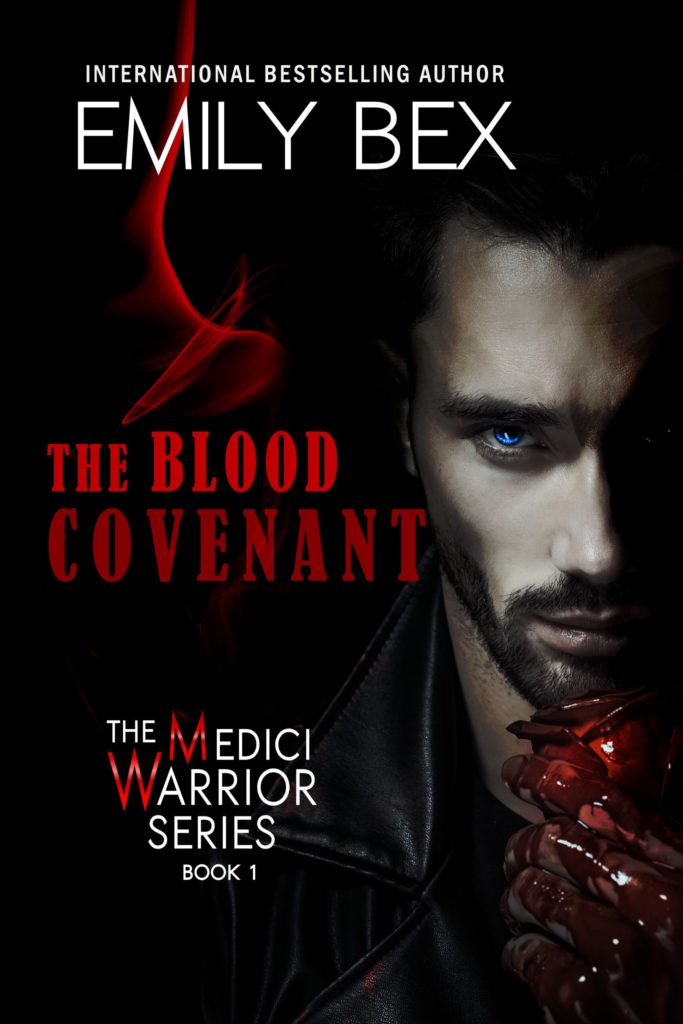 The Medici Warrior Series: The Blood Covenant, Book One
Emily Bex
MUST BE READ IN ORDER
When he met her, he knew how it would end.

Shade Medici, a warrior king and sole male heir to the dynasty, is expected to mate and produce an heir to secure the continuation of the Medici coven. He's waited over five hundred years for the right mate, and when he meets Kate Reese, his attraction is more than primal – it's merciless.
She's also mortal.
Kate is fresh off a broken engagement and reluctant to open her heart, but her hesitations are no match for the unrelenting pursuits of the vampire king. Their passion for each other is searing…and not everyone is happy about it. Namely the ruling Council.

As they fight against deceit, treachery, and those who aim to see their love fail, Shade also struggles to control his impulses as Kate is immersed into his dark and dangerous world, but it's imperative he prepare her for the changes that will be demanded of her should she choose to bind herself to him through the blood covenant. All that scorches and glitters isn't gold, and she quickly learns that falling in love with a vampire comes at a hefty price:

It may just cost her everything.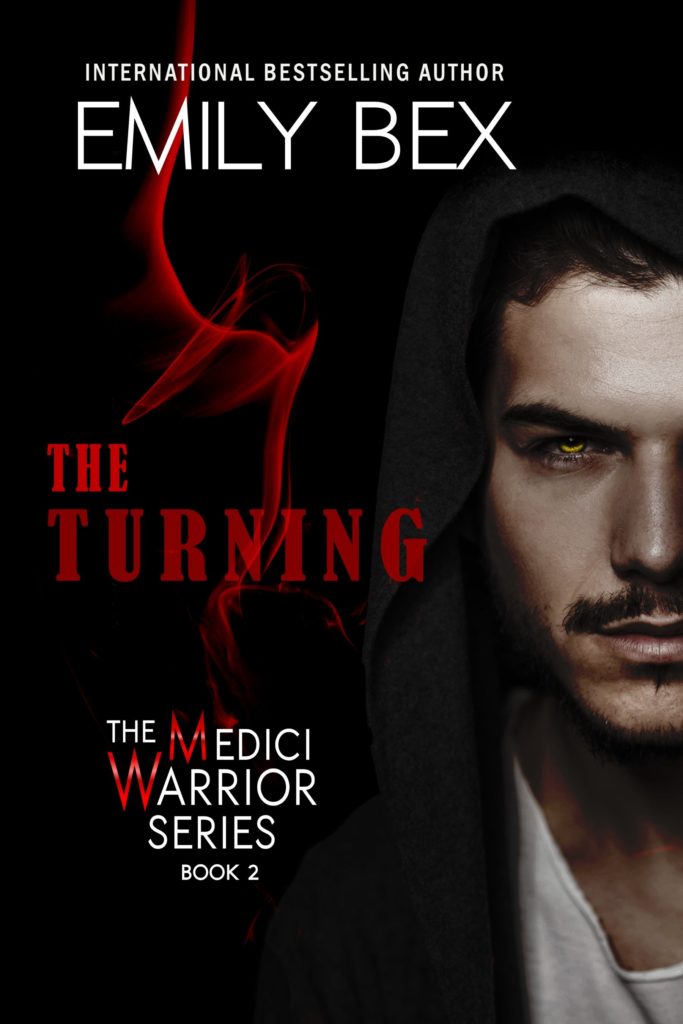 The Medici Warrior Series: The Turning, Book Two
Emily Bex
MUST BE READ IN ORDER
Immortality beckons…
Unable to escape crushing grief, Kate needs an outlet to channel her anguish. Turning to Luca, she pleads to be trained to fight like a warrior, but such a thing is in direct violation of Shade's commands. If she can get Luca to agree, her training must be done in secret. Unfortunately, any training is too little too late.
Intent on crushing Shade, the Aries coven is pressing in on him from all sides. Shade's only weakness is Kate, who becomes their perfect bait.
While Kate has been made stronger, as long as she's mortal, her life is in peril. But going through the turning to become immortal would be a big gamble to her survival. So many decisions, too many obstacles.
This second installment in a vampire saga will draw you in from the first page to the spellbinding end.
The Medici Warrior Series: The Medici Queen, Book Three
Emily Bex
MUST BE READ IN ORDER
There are new beginnings for the ancient Medici vampire coven.
The sexy, powerful King Shade Medici intends to increase his coven and territories to include the U.S. The new Medici Queen proves she can hold her own beside her king. She carries rare abilities believed extinct by the vampire community. She also possesses something never seen in the vampire world. What will it mean to their kind?
A male heir must be produced to carry on the Medici line. The royal couple has many new plans in business to advance their hold in the States. Not everyone is happy about it. The sprawling Medici estate is a threat to its neighboring coven, controlled by Max. Their lifestyle is Rissa's greatest envy.
Secrets will be revealed, old scores will be settled, and many will fall.
The Medici Warrior Series: Fall From Grace, Book Four
Emily Bex
MUST BE READ IN ORDER
Continue the journey in this dark fantasy with Shade and Kate Medici.
Lorenzo discovers his mother isn't the only one born with unique powers.
Alec makes his final bid for political power and is prepared to take down anyone who stands in his way.
There is nothing more dangerous than a vampire with nothing more to lose. You won't believe what happens when he returns to exact his own revenge.

"Scorching", "riveting", and hailed as "the NEXT BIG THING", The Medici Warrior Series follows the exploits of a vampire dynasty that spans four generations in a multi-genre novel with elements of paranormal, smoldering romance, and historical fiction. Get your copy today! Your vampire king is waiting…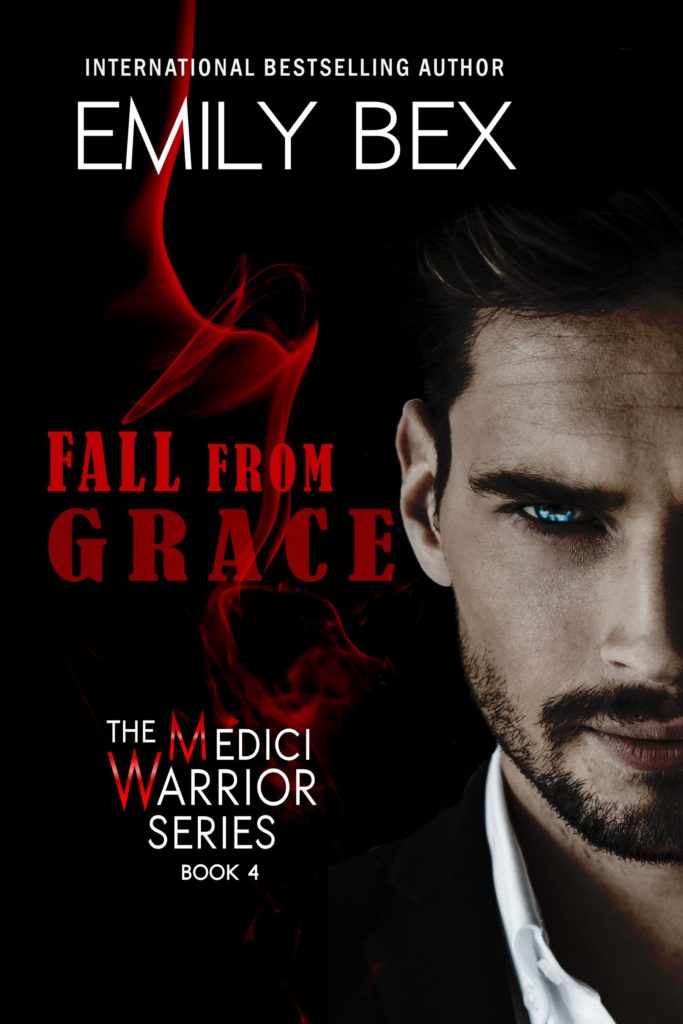 The Medici Warrior Series:Lorenzo's Rising, Book Five
Emily Bex
MUST BE READ IN ORDER
Continue the journey in this dark fantasy with Shade and Kate Medici.
Lorenzo discovers his mother isn't the only one born with unique powers.
Alec makes his final bid for political power and is prepared to take down anyone who stands in his way.
There is nothing more dangerous than a vampire with nothing more to lose. You won't believe what happens when he returns to exact his own revenge.

"Scorching", "riveting", and hailed as "the NEXT BIG THING", The Medici Warrior Series follows the exploits of a vampire dynasty that spans four generations in a multi-genre novel with elements of paranormal, smoldering romance, and historical fiction. Get your copy today! Your vampire king is waiting…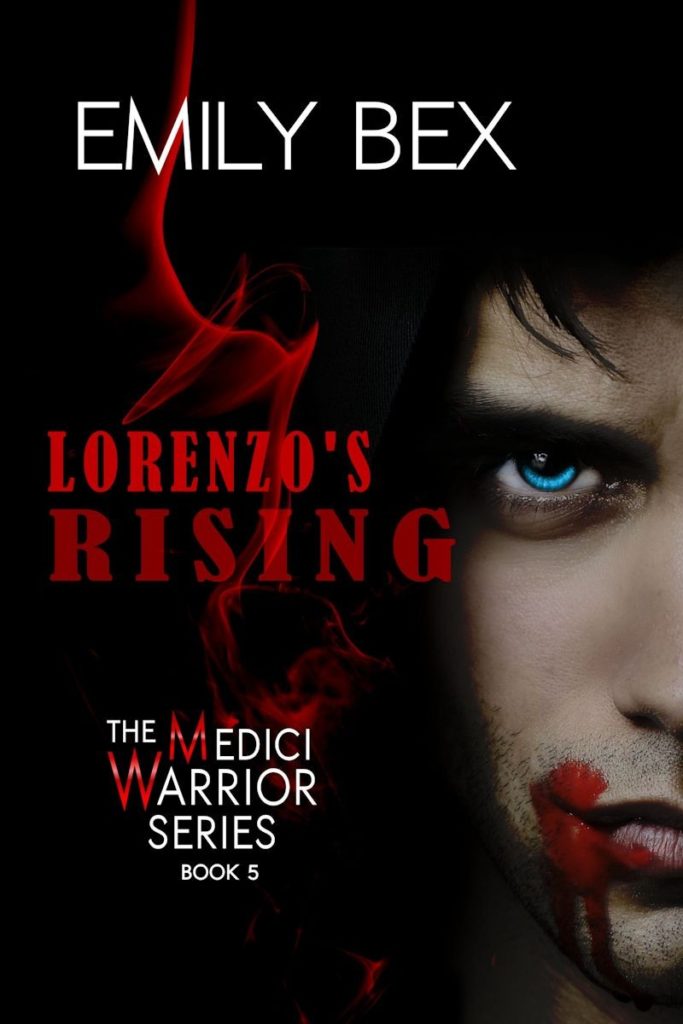 The Medici Warrior Series: Fall From Grace, Book Four
Emily Bex
MUST BE READ IN ORDER
Old allies become enemies, as the Medici's face betrayal.
Lorenzo must learn how to someday lead the Medici coven, and become a warrior as powerful as his father. He quickly discovers not everyone's intentions towards the Medici's are pure.
Sophia pursues a forbidden love and locks horns with her father, as Natalia prepares for her newly discovered destiny, and stumbles upon Shade's long buried secret.
The Medici's take on a new business venture in Italy and run straight into the Mafioso. Lorenzo and Alphie end up in a fatal battle between vampires and mortals.
In classic Emily Bex form, you will be absorbed into the drama that always surrounds the Medici's. Jaws will drop and…

…someone will die.
The Medici Warrior Series: Per Sempre Medici, Book Six
Emily Bex
MUST BE READ IN ORDER
Are you ready for the secret?
The Medici power grows, as the children enter adulthood and establish their own families. Possessing gifts unique to their bloodline, and the expanded reach of their family tree. They appear untouchable, and yet that very power is what makes them a target.
Natalia and Shade have carried the burden of the knowledge of the curse that plagued each generation of the Medici's. The curse will be revealed. Can it be broken?
Father and son will face off against their greatest threat yet, in an epic battle against the evil Borgia's to rule all of Italy. Lorenzo feels assured of their victory. His gift as a fire-thrower giving him an edge, but Natalia's not so sure. The battle for Castello will be paid for in blood.
Dick Denny
What stands between humanity and the battle of Armageddon? A sword. But not just any sword – the Fiery Sword that guarded the Gates of Eden after humanity was kicked out. Before the flood, it was stolen by the 23rd Demon kicked from heaven, who eventually married and imbued it into her human son.

But now she'd dead, and it's starting to manifest.

Humanity's only hope? Nick Decker, a scotch-swilling PI armed with a .45 and the Wrath of God, his nerdy ninja-stripper girlfriend Gretchen, and his loyal acid-dropping, street-doc, war-buddy Jammer. It's up to them to keep the battle of Armageddon from happening… and find the Devil's lost dog.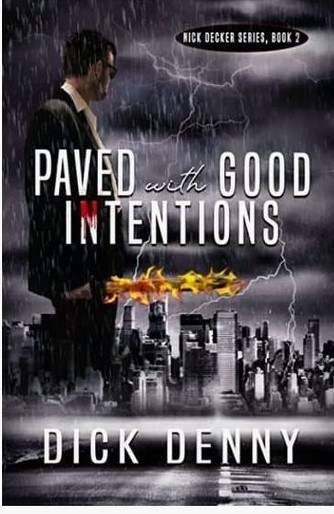 Paved with Good Intentions
Dick Denny
When you do a job for Hell, Heaven expects the same.

When Archangel Gabrielle shows up at the door of Decker Investigations offering some kick-ass cars in exchange for a job, Nick takes it just to keep the peace. But finding the Spear of Destiny while dealing with the Teutonic Knight hit teams and Douchebag Demon Worshiping Academics is a tall order.
Good thing Nick and Jammer's old buddy Switch is in town.
Bouncing between the halls of academia, upper crust parties, clandestine meets in a parking garage, a mall's food court, and… as always… Sharky's, the crew has their work cut out for them.
At least the gang gets to enjoy the world's best meatball sub. And Nick and Gretchen finally squeeze in a real date.
But everyone seems to forget the road to Hell is… well, you know.
Dick Denny
The End is Here…

Nick Decker has been holding two tigers by the tail trying to keep them from devouring each other…and him. But the time has come. Heaven and Hell are bent on ending everything and bringing about the climactic battle of Armageddon.
The Archangel Uriel, demons, imps, idiot drug-dealers, stupid Christian biker gangs… Everyone wants the Wrath…and the only thing standing in their way is Nick and Gretchen. It doesn't help, that Nick isn't convinced the world is WORTH saving.
Nick and Gretchen are stuck in the middle trying to stop, deflect, dodge, redirect, or do anything to lessen or mitigate the damage.
Nick Decker is not a thinker, but he has to cook up something to stop The End of All Things!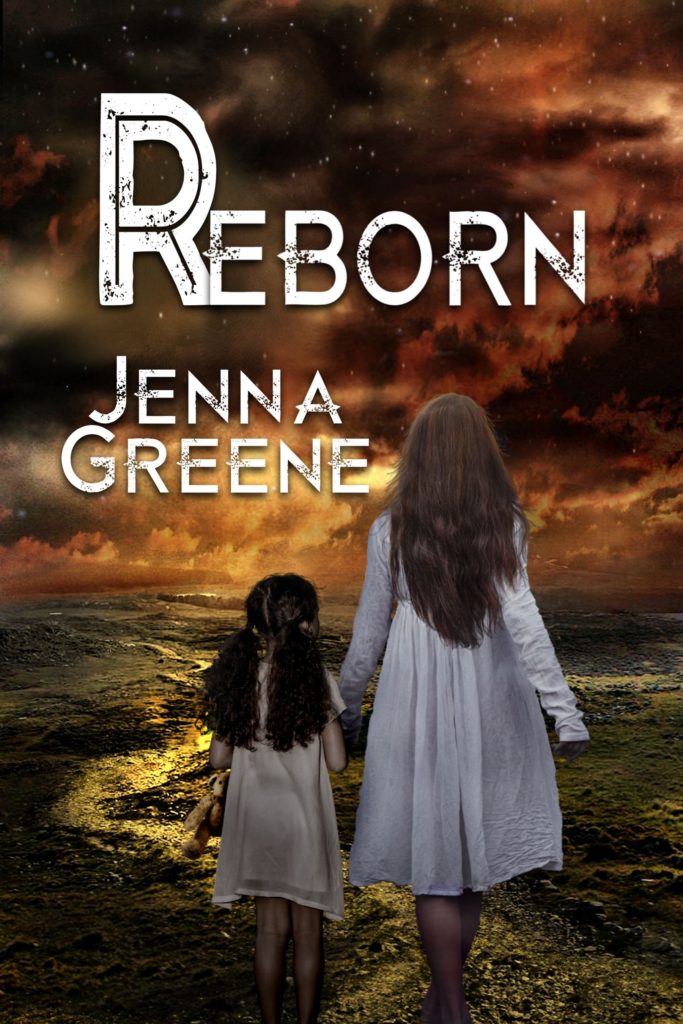 The Reborn Marks Series: Reborn, Book One
Jenna Greene
Seven times marked. One way out…

From birth, Lexil is counted among the marked, souls who have lived before and must now serve those who are on their first lives. Which means she's doomed to a life of slavery with its hard labors and brutal punishments. A life she's learning to endure.
But when the marked child she's befriended is faced with a fate worse than death, Lexil decides to fight back. No matter the risk, no matter the cost.
Her only hope is to flee to the Wastelands with the one person she trusts, Finn. As he leads them through the deadly lands, she realizes that there are only two classes of people in the dangerous wilds, the hunters and the hunted. And among them, those who carry the knowledge of what it truly means to be a Reborn.
But to get to that truth and escape the barren lands alive, Lexil must face challenges that will test everything she thought she knew–and everything she thought she was…
The Reborn Marks Series: Renew, Book Two
Jenna Greene
Haunted by memories of those left behind, Lexil and Finn are forced to venture back into the Wastelands.
The Unclaimed Cities are not the idyllic setting Lexil, Finn, and Ceera thought it would be. This new land has challenges of its own – which they soon discover. When Lexil and Finn return to the Wastelands, they are accompanied by Kaylen, someone they can't decide is a friend or foe. As they retrace their path, they meet up with old allies and enemies, and encounter other treachery embedded in the Wastelands. The trio are then forced to face their own assumptions, prejudices, and fears.
And in the end, to change her fate and alter the destiny of all other Reborns, Lexil must decide what she is willing to risk…

Of both herself and others.
The Guardian League Series: Jasper, Book One
T.K. Lawyer
Why is it so hard to find a good man?
Single female seeks rare, coveted treasure. That was the announcement Tatiana wanted to splatter across every online dating site. She'd had her share of too many toads.
Where was her elusive prince?
Why did he have to fall for her?
A one-night stand would have been way less complicated.
Jasper wasn't seeking a mate. His only intention was to rescue Tatiana from a near-fatal car accident and move on to his next assignment, but we all know intent and reality don't always coincide.
Saving this fiery vixen altered his world, and now he can't tear himself away…though he know he should. She's not supposed to know he even exists.
Some things are worth fighting for.
Sucked into a sizzling love affair, the two of them are compatible in all the right ways, but they also secretly wrestle with demons that could tear them apart.
And there's that tricky little thing called free will.
As much as Jasper craves her, he can't make her want more. In the end, being with him is her decision. A decision that will most definitely be swayed by a secret he keeps.
The Guardian League Series: Centurion, Book Two
T.K. Lawyer
A human mate? No thanks.
Centurion watched his colleagues, one by one, drop out of the dating pool, choosing committed relationships with humans vs. bachelorhood.
Humans were weak, and he preferred things that were strong and hot… like coffee. He would never fall for one. Not when he had an array of ladies at his disposal.
But you know what they say – never say never.
When an artist's exhibition lands him in front of a wide-eyed goddess named April, she captivates him in all the right ways. Fascinated and curious, he can't get enough of her. There's just one little problem:

She's human.

April is drawn to the hunky angel but he's a lot to handle. Not that it deters her. He's unpredictable, incorrigible, and can't promise forever. Only sporadic, limitless fun. Unfortunately for him, she's after more than just his body – she also wants his heart, and if he'll let her, she just might be the woman to steal it away.