Paranormal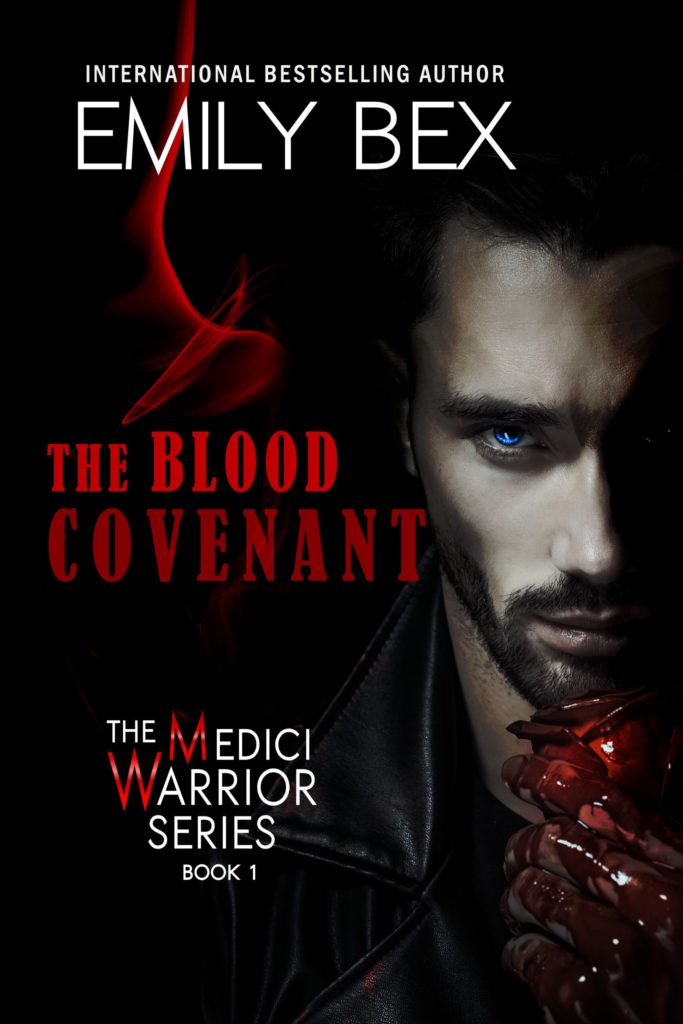 The Medici Warrior Series: Blood Covenant, Book One
Emily Bex
 When he met her, he knew how it would end. 
Shade Medici, a warrior king and sole male heir to the dynasty, is expected to mate and produce an heir to secure the continuation of the Medici coven. He's waited over five hundred years for the right mate, and when he meets Kate Reese, his attraction is more than primal – it's merciless. 
She's also mortal. 
Kate is fresh off a broken engagement and reluctant to open her heart, but her hesitations are no match for the unrelenting pursuits of the vampire king. Their passion for each other is searing…and not everyone is happy about it. Namely the ruling Council. As they fight against deceit, treachery, and those who aim to see their love fail, Shade also struggles to control his impulses as Kate is immersed into his dark and dangerous world, but it's imperative he prepare her for the changes that will be demanded of her should she choose to bind herself to him through the blood covenant. 
All that scorches and glitters isn't gold, and she quickly learns that falling in love with a vampire comes at a hefty price: 
It may just cost her everything.
Some links unavailable due to KU enrollment requirements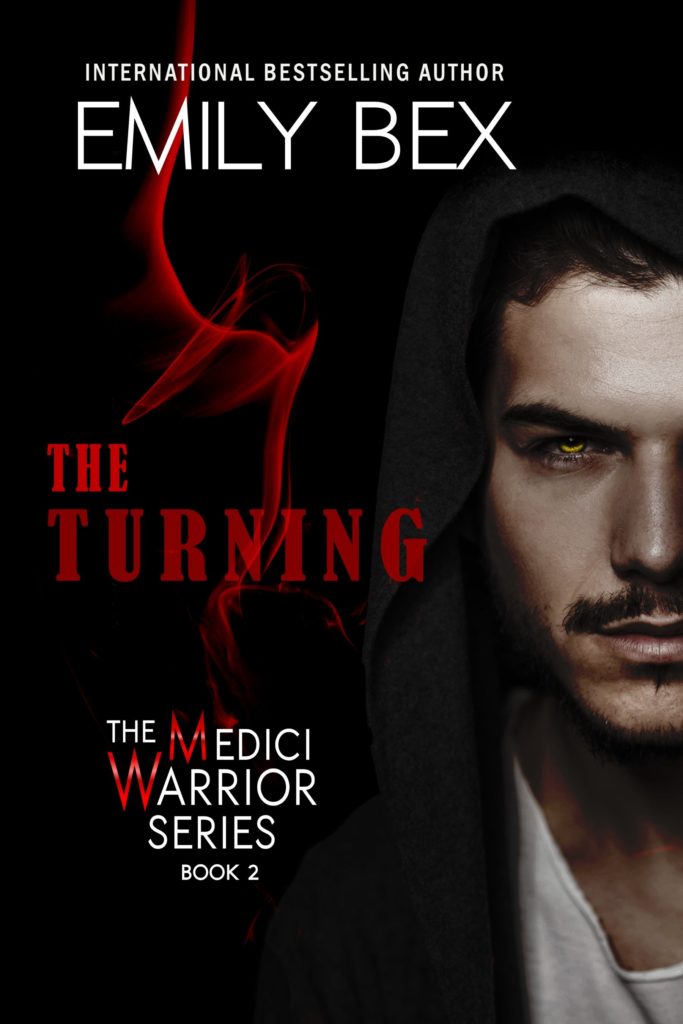 The Medici Warrior Series: The Turning, Book Two
Emily Bex
Immortality beckons… 
Unable to escape crushing grief, Kate needs an outlet to channel her anguish. Turning to Luca, she pleads to be trained to fight like a warrior, but such a thing is in direct violation of Shade's commands. If she can get Luca to agree, her training must be done in secret. Unfortunately, any training is too little too late. Intent on crushing Shade, the Aries coven is pressing in on him from all sides. 
Shade's only weakness is Kate, who becomes their perfect bait. While Kate has been made stronger, as long as she's mortal, her life is in peril. But going through the turning to become immortal would be a big gamble to her survival. So many decisions, too many obstacles. 
This second installment in a vampire saga will draw you in from the first page to the spellbinding end.
Some links unavailable due to KU enrollment requirements
The Medici Warrior Series: The Medici Queen, Book Three
Emily Bex
There are new beginnings for the ancient Medici vampire coven. 
The sexy, powerful King Shade Medici intends to increase his coven and territories to include the U.S. The new Medici Queen proves she can hold her own beside her king. She carries rare abilities believed extinct by the vampire community. She also possesses something never seen in the vampire world. What will it mean to their kind?
A male heir must be produced to carry on the Medici line. The royal couple has many new plans in business to advance their hold in the States. Not everyone is happy about it. The sprawling Medici estate is a threat to its neighboring coven, controlled by Max. Their lifestyle is Rissa's greatest envy. 
Secrets will be revealed, old scores will be settled, and many will fall.
Some links unavailable due to KU enrollment requirements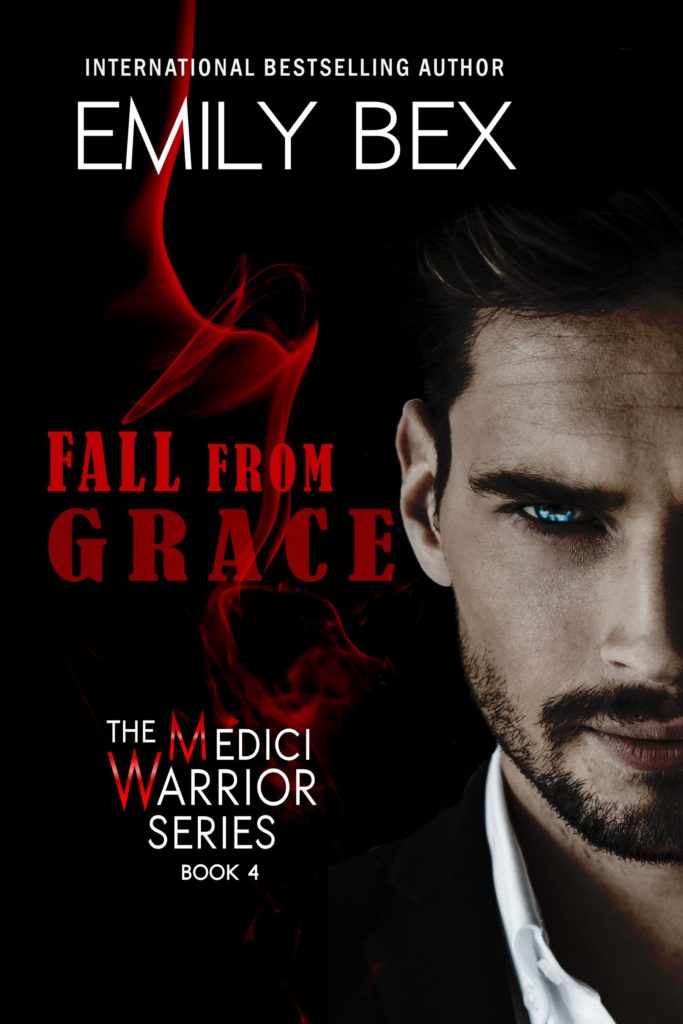 The Medici Warrior Series: Fall From Grace, Book Four
Emily Bex
Continue the journey in this dark fantasy with Shade and Kate Medici. 
Lorenzo discovers his mother isn't the only one born with unique powers. Alec makes his final bid for political power and is prepared to take down anyone who stands in his way. There is nothing more dangerous than a vampire with nothing more to lose.
You won't believe what happens when he returns to exact his own revenge.
Some links unavailable due to KU enrollment requirements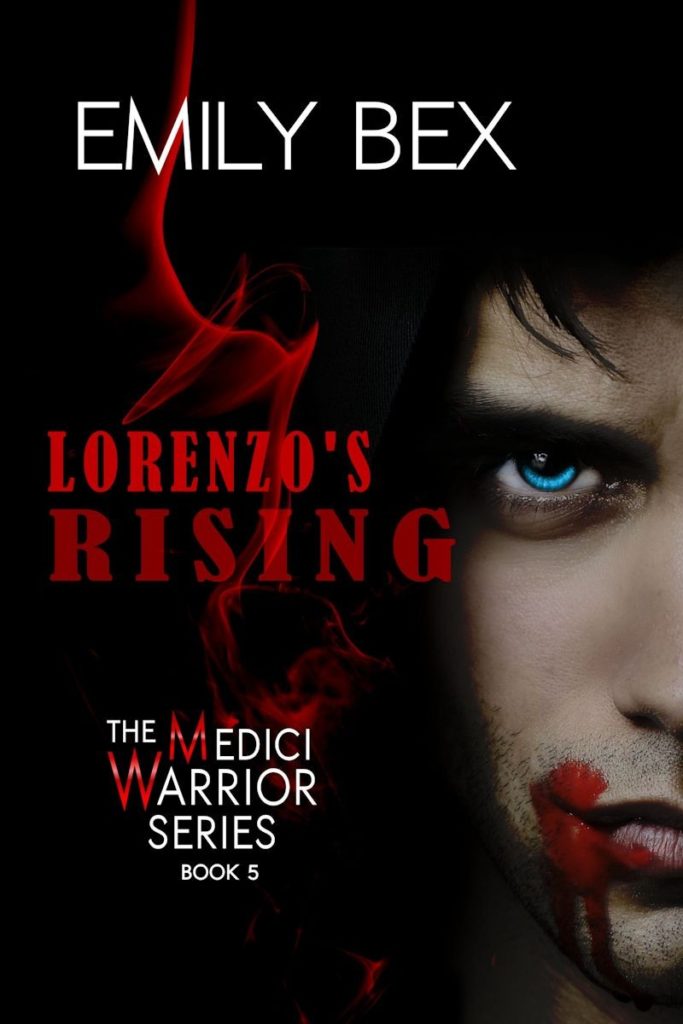 The Medici Warrior Series: Lorenzo's Rising, Book Five
Emily Bex
Old allies become enemies, as the Medici's face betrayal. 
Lorenzo must learn how to someday lead the Medici coven, and become a warrior as powerful as his father. He quickly discovers not everyone's intentions towards the Medici's are pure. Sophia pursues a forbidden love and locks horns with her father, as Natalia prepares for her newly discovered destiny, and stumbles upon Shade's long buried secret. 
The Medici's take on a new business venture in Italy and run straight into the Mafioso. Lorenzo and Alphie end up in a fatal battle between vampires and mortals. In classic Emily Bex form, you will be absorbed into the drama that always surrounds the Medici's. Jaws will drop and… 
…someone will die.
Some links unavailable due to KU enrollment requirements
The Medici Warrior Series: Per Sempre Medici, Book Six
Emily Bex
Are you ready for the secret? 
The Medici power grows, as the children enter adulthood and establish their own families. Possessing gifts unique to their bloodline, and the expanded reach of their family tree. They appear untouchable, and yet that very power is what makes them a target. Natalia and Shade have carried the burden of the knowledge of the curse that plagued each generation of the Medici's. The curse will be revealed. Can it be broken?
Father and son will face off against their greatest threat yet, in an epic battle against the evil Borgia's to rule all of Italy. Lorenzo feels assured of their victory. His gift as a fire-thrower giving him an edge, but Natalia's not so sure. 
The battle for Castello will be paid for in blood.
Some links unavailable due to KU enrollment requirements
The Bohannon Witches Series: Rhiannon's Circle, Book One
Emily Bex
Eilish Bohannon is the witch destined to lead the coven, but only if her older sister doesn't kill her first. 
Set in Charleston, SC, the Bohannons lead a coven whose legendary powers date back to ancient Ireland. In each generation, one witch is destined to rise to High Priestess. Oldest sister, Seraphina, is certain the role is hers and will do anything to ensure Eilish doesn't interfere with her plans. Even if it means getting rid of her baby sister for good. 
If Eilish is to survive and claim her rightful role, she'll need the support of her middle sister, Anya, and a lot of help in the form of a vampire named Ian Cross…who was seemingly placed right in her path by the goddess Rhiannon. Their attraction to each other is immediate. Searing. And, ultimately, forbidden, since no coven will follow a Priestess who has bonded with his kind. 
On their quest to find the answers needed to stop Seraphina, they consult with one of the oldest members of the coven, a crone named Henwen, who presents them with another problem – a Bohannon grimoire exists and has been purposefully hidden. Eilish and Anya will need to find the book if they have any chance of survival… 
…as it holds the power of the Bohannon coven and can only be controlled by the witch destined to own it. 
The Nick Decker Series: Hell for the Company, Book One
Dick Denny
What stands between humanity and the battle of Armageddon? A sword. 
But not just any sword – the Fiery Sword that guarded the Gates of Eden after humanity was kicked out. Before the flood, it was stolen by the 23rd Demon kicked from heaven, who eventually married and imbued it into her human son. But now she's dead, and it's starting to manifest. Humanity's only hope? Nick Decker, a scotch-swilling PI armed with a .45 and the Wrath of God, his nerdy ninja-stripper girlfriend Gretchen, and his loyal acid-dropping, street-doc, war-buddy Jammer. It's up to them to keep the battle of Armageddon from happening… 
and find the Devil's lost dog.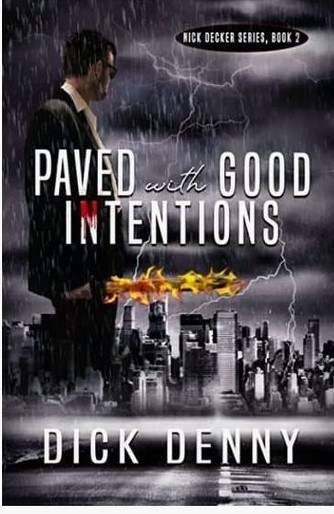 The Nick Decker Series: Paved with Good Intentions, Book Two
Dick Denny
When you do a job for Hell, Heaven expects the same. 
When Archangel Gabrielle shows up at the door of Decker Investigations offering some kick-ass cars in exchange for a job, Nick takes it just to keep the peace. But finding the Spear of Destiny while dealing with the Teutonic Knight hit teams and Douchebag Demon Worshiping Academics is a tall order. Good thing Nick and Jammer's old buddy Switch is in town. Bouncing between the halls of academia, upper crust parties, clandestine meets in a parking garage, a mall's food court, and… as always… Sharky's, the crew has their work cut out for them. At least the gang gets to enjoy the world's best meatball sub. And Nick and Gretchen finally squeeze in a real date. But everyone seems to forget the road to Hell is… 
well, you know.
The Nick Decker Series: Abandon All Hope, Book Three
Dick Denny
The End is Here… 
Nick Decker has been holding two tigers by the tail trying to keep them from devouring each other…and him. But the time has come. Heaven and Hell are bent on ending everything and bringing about the climactic battle of Armageddon. The Archangel Uriel, demons, imps, idiot drug-dealers, stupid Christian biker gangs… Everyone wants the Wrath…and the only thing standing in their way is Nick and Gretchen. It doesn't help, that Nick isn't convinced the world is WORTH saving. Nick and Gretchen are stuck in the middle trying to stop, deflect, dodge, redirect, or do anything to lessen or mitigate the damage. Nick Decker is not a thinker, but he has to cook up something to stop 
The End of All Things!
The Westwood Pack Series: Rise of the Phoenix, Book One
F.D. Fair
He promised me forever. But when he shows his true colors, I have no choice but to run… 
Alaric 
I found my mate. It should be the happiest day of my life, right?
Wrong.
The problem?
She's human and already has a family.
When her husband turns out to be a dangerous race once thought extinct, it becomes even more complicated…
Phoebe
I'm living the dream: A big house, a good job, a good-looking husband, and two beautiful kids.
I start to question everything when my husband shows his true colors.
Who is this man I'm married to?
As if it's fate, I meet a stranger who sets my body ablaze and offers me protection.
But my husband won't let me go that easily…
And now Alaric is risking everything to get me free.
Some links unavailable due to KU enrollment requirements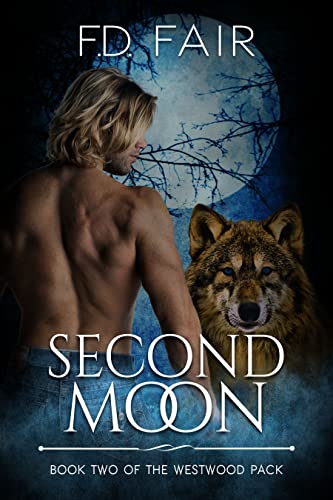 The Westwood Pack Series: Second Moon, Book Two
F.D. Fair
He rejected me, and then he realized he made a mistake. Sucks to be him… 
Skarlyt 
My mate left me rejected and broken on the bathroom floor.
I'm going to make him pay.
Once I pick myself up and dust myself off, I'll come back stronger than he ever could have imagined.
But when he realizes the mistake he made, how far will he go to get what he wants most?
Especially when he finds out about the hot new wolf shifter who says he's my second chance mate…
Lennox
Rejected at first glance, she didn't even know my name.
But when my sisters join a new pack, it offers me a chance to start over fresh.
No way could I turn that down.
I'm glad I didn't…
Meeting a sexy witch isn't something I had ever expected, but you know what they say – the moment you stop looking for a mate is the moment they appear.
This one comes with more than just a killer body and a scent that drives me absolutely wild.
She also has a past that comes back to haunt her with a fury.
But I'll be damned if he ever gets his hands on her again…
Some links unavailable due to KU enrollment requirements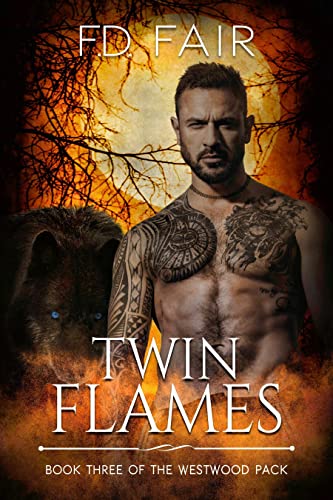 The Westwood Pack Series: Twin Flames, Book Three
F.D. Fair
One sacrificial lamb for the freedom of a mate…
Sophia
've been their captive and slave for as many years as I've been on this earth.
I never dared to dream or hope for a better life.
But when these mages decide to turn me into a baby maker…things change.
I will not let them force me to bring their spawn into the world.
So, along with the help a friend, I run.
Running away turned out to be the best thing that ever happened.
I've finally found where I belong – with the Westwood Pack. It's a family I didn't know ever existed.
But it's not long before the mages track me down…
And use my mate as bait to get me back.
Darren
Sophia being liberated from her cage and joining our family was the happiest day of my life.
The mages finding her and using me as bait to get her back was the worst.
But if they think that my family will trade one member for another, they're in for a rude awakening.
We never give up on each other.
Even if we have to die in the process…
Some links unavailable due to KU enrollment requirements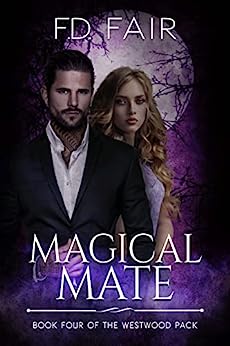 The Westwood Pack Series: Magical Mate, Book Four
F.D. Fair
Running from my father is a necessity. But can I trust the man who is offering me protection?
Sarah
Being raised by a single father was hard enough, add in that he's an evil man who only cares about himself and the coven, and my life is a recipe for disaster.
Now he's forcing me to marry someone even worse than him.
If I escape and he finds me, it will only be worse.
Now, another man is promising me the world, trying to convince me he's different and is offering me protection.
But I don't know if I can ever learn to open myself up again…
Sebastyn
I'm happiest when traveling the world, learning many kinds of magic that were lost throughout the centuries.
When my sister is kidnapped, I rush home, planning to stay long enough to rescue her.
Then she shows up…
She consumes my thoughts both day and night. Being anywhere else but here no longer appeals to me.
I know she's attracted to me, though she's hesitant.
How can I convince her I'm different from all she's known? That I will keep her safe?
I can be patient…
I have to be.
She's worth it.
Though I think my mom has been holding onto a secret…
Some links unavailable due to KU enrollment requirements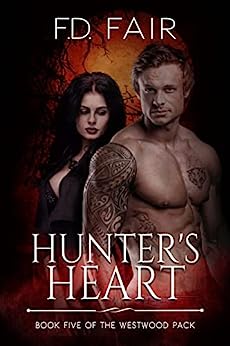 The Westwood Pack Series: Hunter's Heart, Book Five
F.D. Fair
Hunters have been tasked with eradicating my kind from the earth. The woman I want just so happens to be one of them…
Rayne
I am the descendant of Ullr, the Norse God of the Hunt.
I've hunted supernaturals all my life, always questioning if it was the right thing to do.
A woman on fire saved me during a battle, and now I can't stop questioning my entire life.
So, I run to find out for myself.
And I run right into the supernatural world…
Which should have scared me, but instead I've found my home.
The supernaturals my father taught me to hate are more family to me than he ever was.
So, naturally, complications are sure to follow.
My complication is a tall, blonde, sexy-as-sin vampire, who's also the biggest dick I've ever met.
But my real problem is that I can't find the strength to deny him…
Drake
I've never wanted a mate.
I could never fathom how anyone could be tethered to a single person their entire life.
Then I met her. She's gorgeous, strong willed, everything I could ever imagine in a mate.
She also happens to drive me certifiably insane.
The real problem? She's a hunter.
And my kind are usually the ones in her crosshairs…
Can enemies truly turn to lovers, or will she betray us all at the first opportunity?
Some links unavailable due to KU enrollment requirements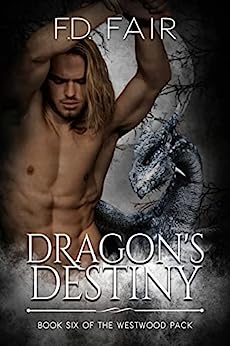 The Westwood Pack Series: Dragon's Destiny, Book Six
F.D. Fair
A thousand years ago a prophecy was told of a love that would transcend time. Some things are worth the wait…
Drusilla
Severe PTSD? Check.
Low self-esteem? Double check.
Terrified to leave my home? Triple check.
I'm a vampire.
I was taken captive and tortured by a group of hunters when I was young.
Ever since I returned home, I haven't left. I'm still being held captive by the scars they left.
Now, with my friend's help, I'm learning to live again.
And I'm longing for a mate of my own…
When Andres confirms what my body already seems to know – that he's my mate. It terrifies me.
I know I can't love another until I can love myself again. I just hope he'll be able to wait…
Andres
I've waited a thousand years for her, and I'd wait a thousand more.
She's perfect and everything I've ever wished for–caring, beautiful, and a heart of gold.
The last great seer told me she wouldn't be ready right away, and she would need time and understanding.
I've been preparing myself for that and thought I was ready.
But it's so hard…
Every second of every day my dragon is riding me to claim our mate, and I'm not sure how much longer I can keep him under control…
Maybe unleashing him on the ones who held her captive would help.
Some links unavailable due to KU enrollment requirements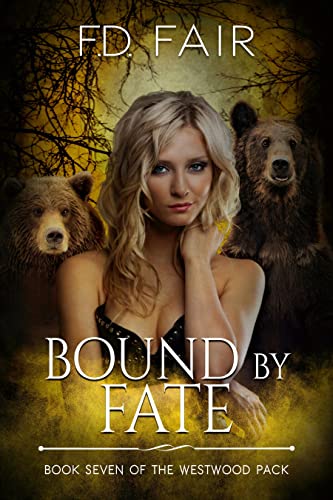 The Westwood Pack Series: Bound by Fate, Book Seven
F.D. Fair
I was given the gift of two identical twin mates…and then one of them rejects me. Now our souls can never be complete.
Opal
Meeting my mate was the best day of my life…
Until he rejected me seconds after giving me the best birthday present a girl could ask for.
I then ran and reinvented myself into someone who didn't care.
But when he steps back in my life, I'm forced right back to where I started.
Though not for long…
Fate is a bitch and decided one man wasn't enough to handle me, so she gave me two.
I'm not sure what was going through the goddess' mind when she gave me identical twins—the one who rejected me and the one who promises me the world.
The problem?
Our souls will never be complete with one of them left out.
How do I trust these men after one has already ripped out my heart?
Zeke
Hunters murdered my father.
I left home to seek retribution and take revenge.
When I returned home one last time to say goodbye to my twin, I ran into the last thing I ever wanted…
My mate. But the only thing I can give her right now is death…
So, I do the unthinkable. I reject her.
Axel
I'm livid with my twin.
Not because of why he was banished, but because of his rejection of my mate.
Now I need to convince her I'm different from him…
Because there is no life for me without her.
Some links unavailable due to KU enrollment requirements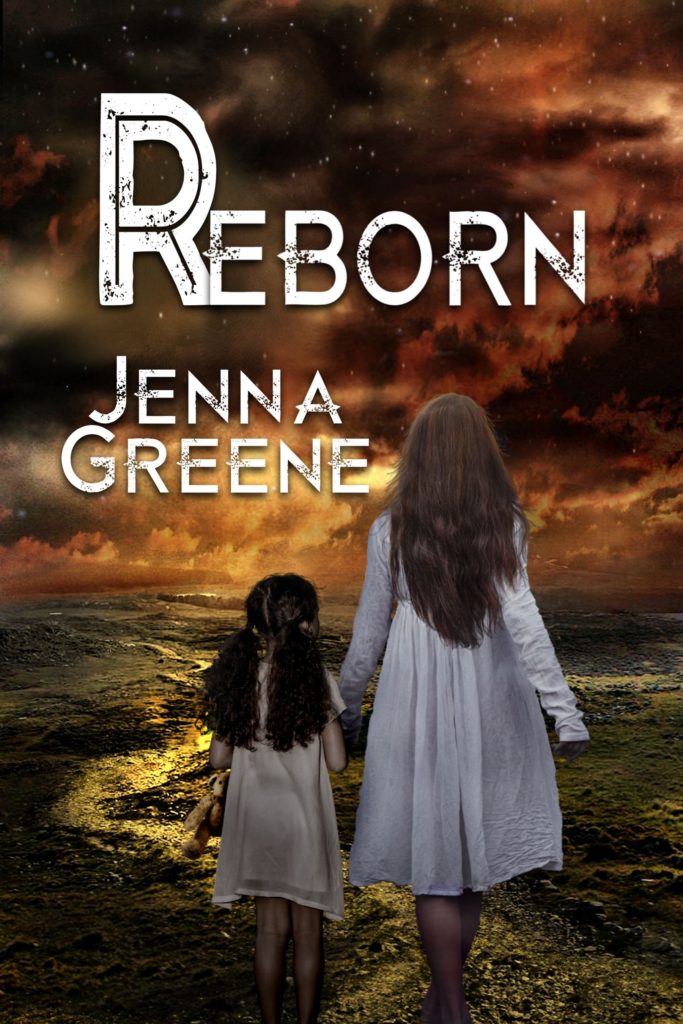 The Reborn Marks Series: Reborn, Book One
Jenna Greene
Seven times marked. One way out…
From birth, Lexil is counted among the marked, souls who have lived before and must now serve those who are on their first lives. Which means she's doomed to a life of slavery with its hard labors and brutal punishments. A life she's learning to endure.
But when the marked child she's befriended is faced with a fate worse than death, Lexil decides to fight back. No matter the risk, no matter the cost.
Her only hope is to flee to the Wastelands with the one person she trusts, Finn. As he leads them through the deadly lands, she realizes that there are only two classes of people in the dangerous wilds, the hunters and the hunted. And among them, those who carry the knowledge of what it truly means to be a Reborn.
But to get to that truth and escape the barren lands alive, Lexil must face challenges that will test everything she thought she knew–and everything she thought she was…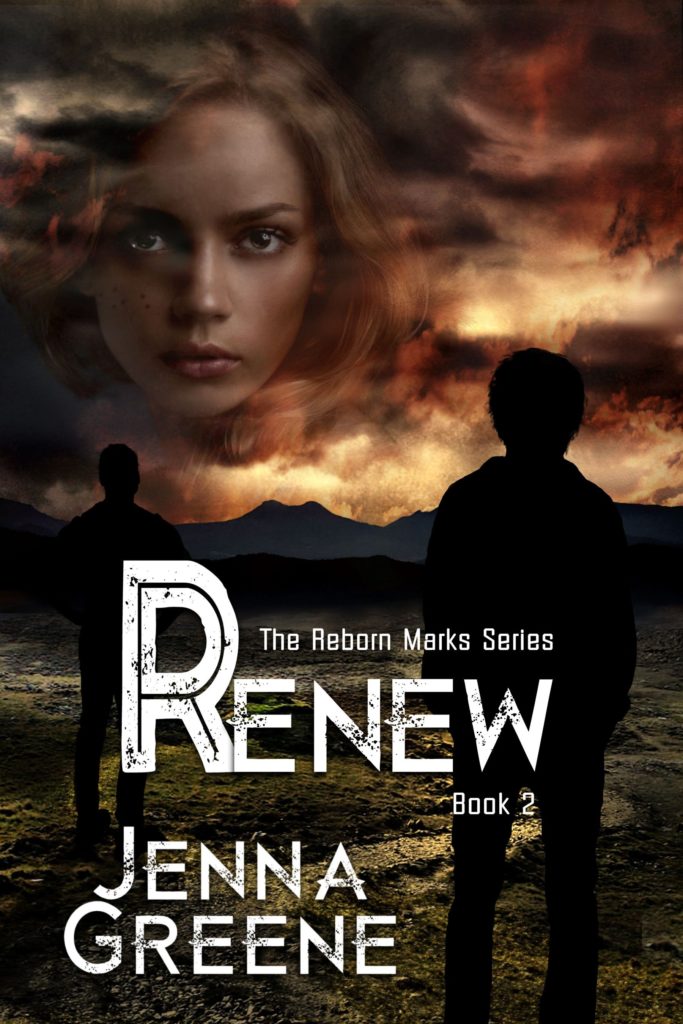 The Reborn Marks Series: Renew, Book Two
Jenna Greene
Haunted by memories of those left behind, Lexil and Finn are forced to venture back into the Wastelands.
The Unclaimed Cities are not the idyllic setting Lexil, Finn, and Ceera thought it would be. This new land has challenges of its own – which they soon discover. When Lexil and Finn return to the Wastelands, they are accompanied by Kaylen, someone they can't decide is a friend or foe. As they retrace their path, they meet up with old allies and enemies, and encounter other treachery embedded in the Wastelands. The trio are then forced to face their own assumptions, prejudices, and fears.
And in the end, to change her fate and alter the destiny of all other Reborns, Lexil must decide what she is willing to risk…
Of both herself and others.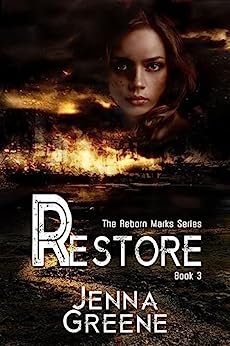 The Reborn Marks Series: Restore, Book Three
Jenna Greene
Alone, back in slavery, Lexil must figure out a way to survive…
Lexil is back in Anstetor where it all began. Back to who she once was. Not only has she been separated from everyone she knows, she is imprisoned by a group of rogue Retrievers who want to brutally punish runaway Reborns.
Though obstacles are placed in her path, she continues her quest to rid the land of prejudice and slavery. Will she achieve her goal? Will she change beyond recognition by the choices she is forced to make?
Aided by unlikely sources, Lexil forges deeper into Anstetor, revisiting familiar places and haunting memories. New truths are presented to her. Relationships are challenged. Her body, mind, and emotions are pushed to the limit.
And Lexil will end up sacrificing more than she ever imagined…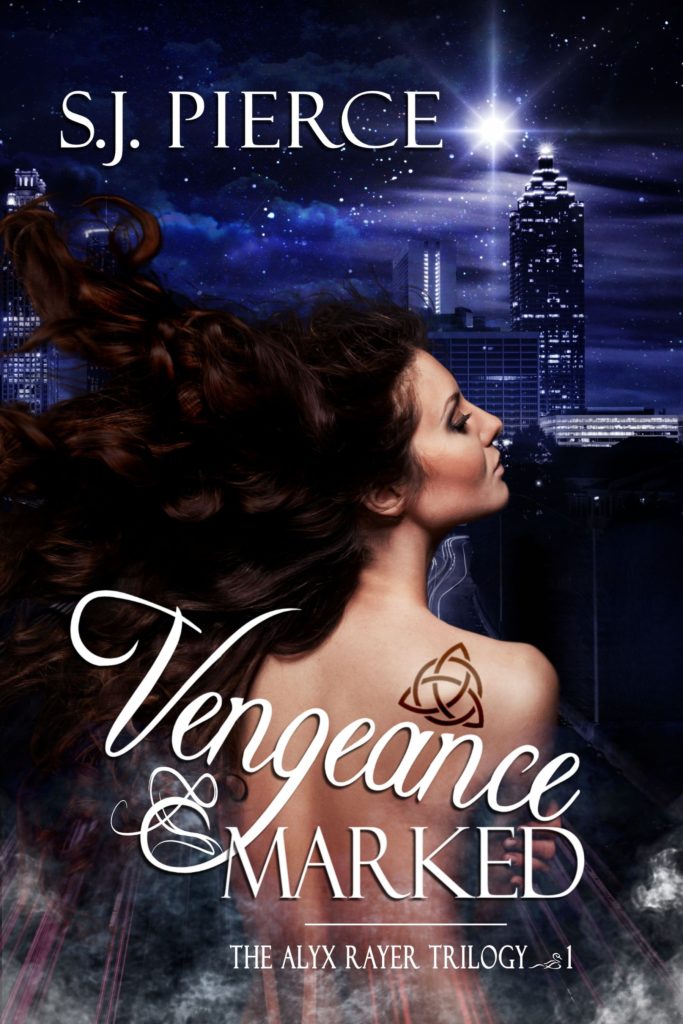 The Alex Rayer Series: Vengeance Marked, Book One
S.J. Pierce
When the woman of your dreams looks like a demon…that's never a good sign.
Isaac doesn't know it, but his dreams of a woman with black eyes are actually a premonition. So, when he meets her in real life, sans demon-eyes, he knows something isn't quite right. But he also has a hard time staying away. What do these dreams mean? And why, despite their sizzling chemistry, can't he shake the feeling it will all end in catastrophe?
Probably because he also knows she's hiding something.
When the man you crave is also the man you've been sent to kidnap…things get messy.
The ones who created Alyx are watching her every move, which includes her forbidden meetings with the man she's been sent to spy on: Isaac…who also doesn't know who or what she is. So, when her creators finally summon to fulfill her purpose and capture him, she knows they're not the only ones she'll have to answer to. When all of mankind hangs in the balance, there is no room for error, and her draw to Isaac had her stumbling from the start. It's only a matter of time before things start going to hell.
Literally.
If only she'd followed the rules…
Some links unavailable due to KU enrollment requirements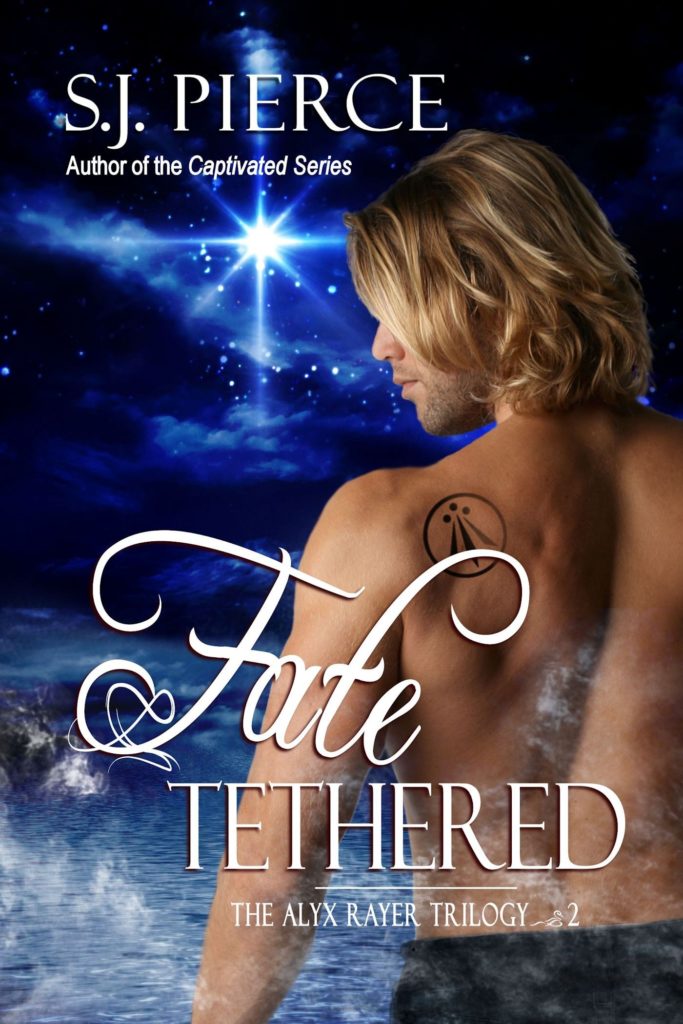 The Alex Rayer Series: Fate Tethered, Book Two
S.J. Pierce
Where fate would take the both of them now, Isaac wasn't sure, but either way their paths were irrevocably tethered.
Hurled into the midst of a holy war between the sinister fallen Angel of War and their beloved Creator, gifted humans, Angels, and Spirit Guides unite to create a formidable, ethereal army. With the imminent battle only days away, continue to follow the story that captivated your hearts as a Protector Angel named Alyx struggles with her own inner conflicts between right and wrong, love and honor.
Some links unavailable due to KU enrollment requirements
The Alex Rayer Series: Fire Destined, Book Three
S.J. Pierce
Fire… this was her destiny. She would leave this world in fire and hopefully right all of these terrible wrongs.
In this final installment of the Alyx Rayer Chronicles, follow Alyx and Micah as they travel back to the hell that once was Earth in search of Serpious and his legion, as well as the only thing they have left to care about now – revenge.
Some links unavailable due to KU enrollment requirements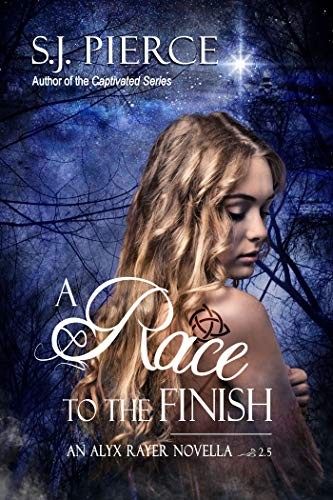 The Alex Rayer Series: A Race to the Finish, Book Four
S.J. Pierce
Alyx wasn't the only Angel of Protection charged with the daunting task of transporting her Marked safely to the gateway when they were summoned on that chaos-filled October day. Get to know the other seven Protectors and their gifted humans more intimately as you follow each of their journeys.
Some links unavailable due to KU enrollment requirements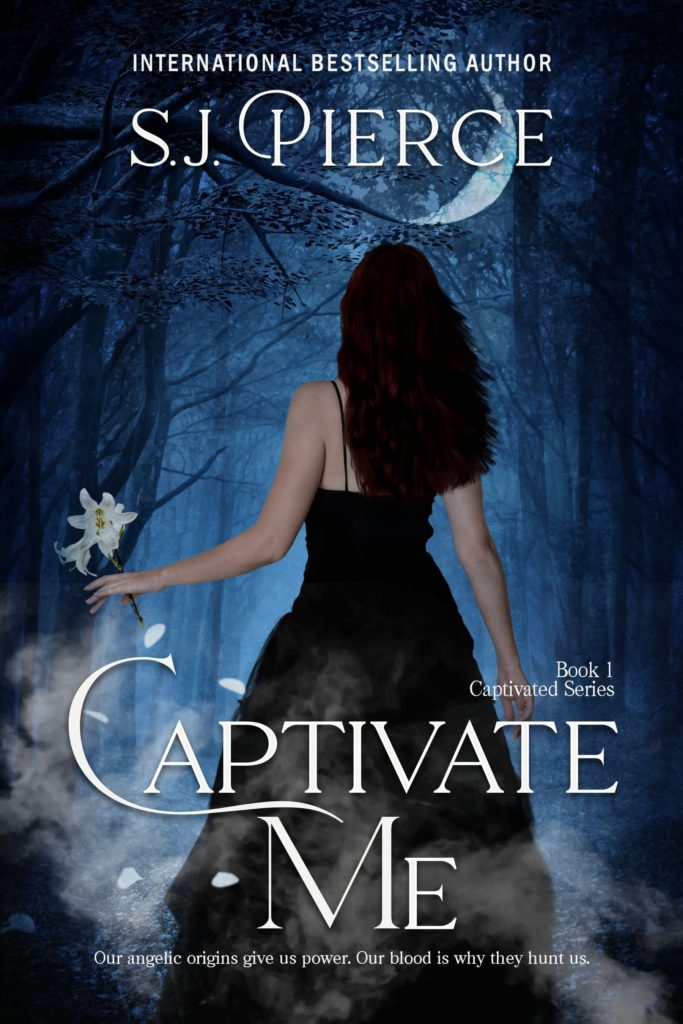 The Captivated Series: Captivate Me, Book One
S.J. Pierce
I'm hunted for my blood…
I've never been accused of being an angel. But after an incident at school proves the angelic powers in my blood are stronger than anyone knew, my parents can't get me to Midland Pines fast enough.
The boarding school for the paranormally gifted is both my refuge and my prison–and it just might be my tomb. Because although I've made a few friends and even have the coveted attention of the charming illusionist Levi, things just don't feel right at Midland Pines. Something dark and threatening looms in the surrounding woods.
Something that calls to me with an intense pull I can't deny.
And it's not long before its reaching shadows draw me to the edge — to glimpse the elusive watcher hidden among the trees, the same boy who appears in my dreams, and to offer me an impossible choice.
Time is running out. Students are missing, the school is on lockdown, and the half-breeds like me in the woods are offering me a way out — protection from those who would kill me for my blood. But that means leaving everything and everyone I've ever known behind. For good. The only other choice is to stay and fight. But can I sort friend from foe and truth from lies before it's too late? Or will my blood finally be spilled at the hands of a wicked foe determined to destroy us all?
Some links unavailable due to KU enrollment requirements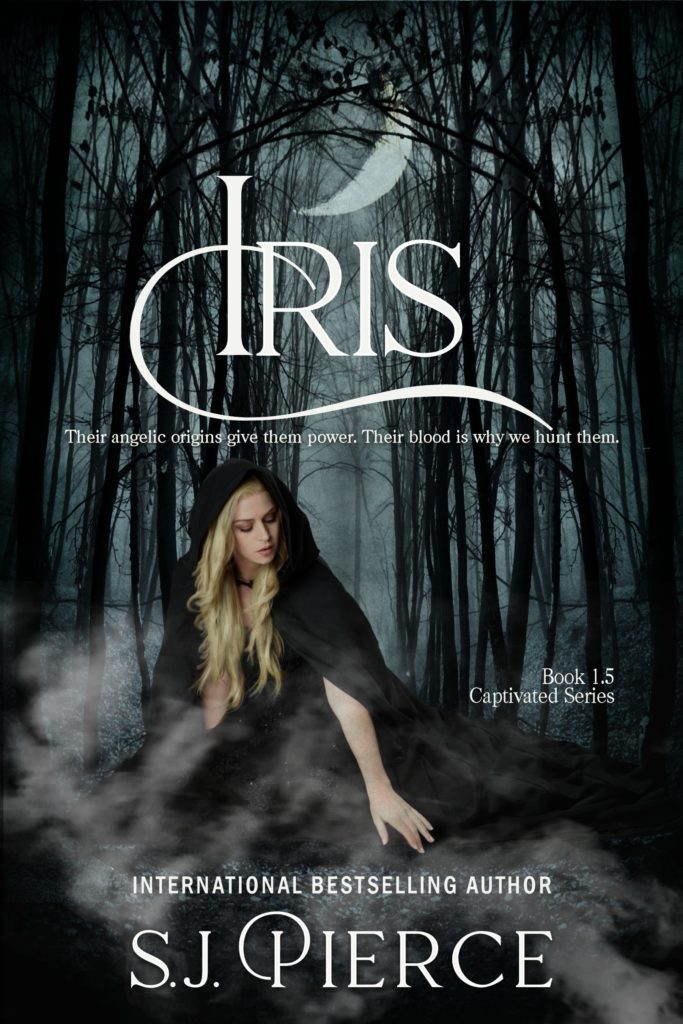 The Captivated Series: Iris, Book 1.5
S.J. Pierce
This novella is meant to be read after Captivate Me.
Set before the events in Book One of the Captivated Series, Iris explores the depths of family bonds, new bonds, and the lengths a person would go to save the life of a dying sibling. In this novella, get to know Iris and her two sisters more intimately, as well as Gabriel, the first angel-human hybrid who agrees to live under her protection.
Some links unavailable due to KU enrollment requirements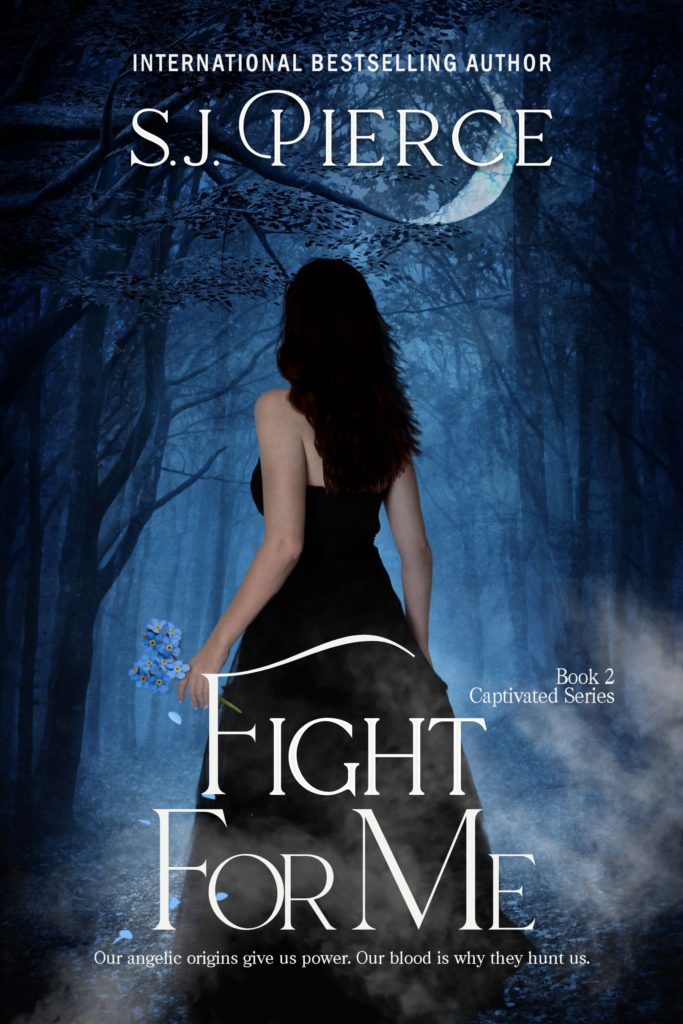 The Capitaved Series: Fight for Me, Book Two
S.J. Pierce
Our angelic origins give us power. Our blood is why they hunt us.
A fresh start – something Gabriel and I thought we would find when we left our pasts behind at Midland Pines High and moved to a compound for hybrids. Or at least safety from a witch seeking revenge. But… that's all changed. Thanks to a flirty hybrid hell bent on winning Gabriel's attention, the terrifying visions of another prophetic Gifted, and the strange and worrisome behavior of one of our closest friends, I find myself fighting for things that had once come so easily, including my relationship with my soulmate. And now I'm afraid.
Some links unavailable due to KU enrollment requirements
The Captivated Series: Lilliana, Book Four 2.5
S.J. Pierce
This novella is meant to be read after Fight for Me.
The last living LaRoux sister is pissed and out for revenge. In "Lilliana," the second and final novella to the Captivated Series, follow the brazen, immortal dark conjurer as she sets out on a quest to make her sisters' killers pay.
Some links unavailable due to KU enrollment requirements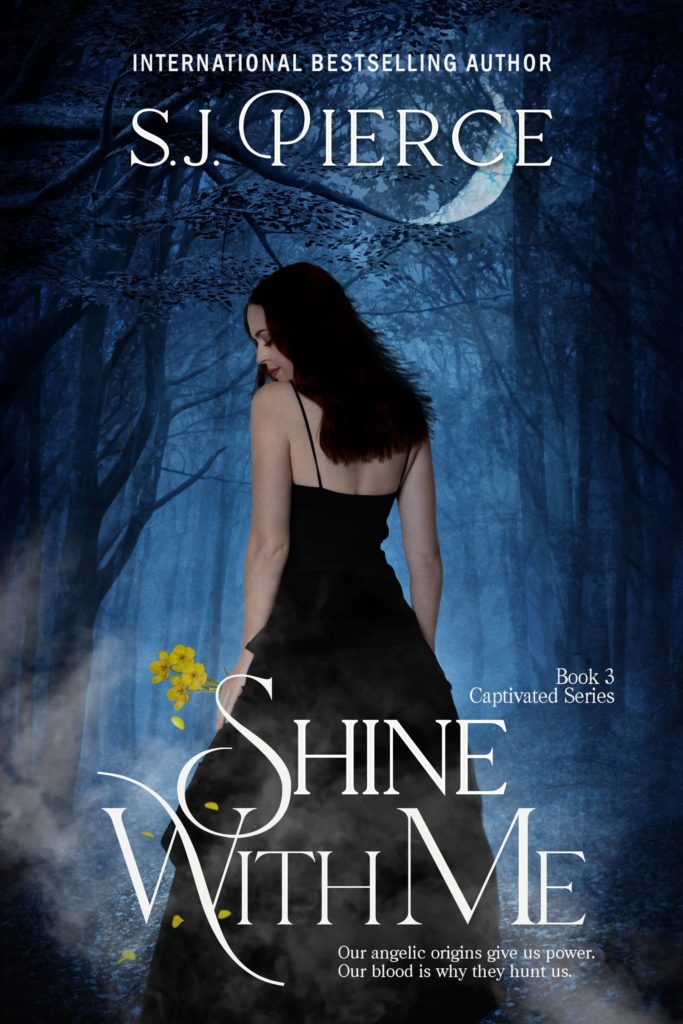 The Captivated Series: Shine With Me, Book Three
S.J. Pierce
Our angelic origins give us power. Our blood is why they hunt us.
The darkness is coming…
After Lilliana threatens to come back and extinguish everyone at the compound, our leadership decides to take a final stand against the woman whose family has been terrorizing us for years. I just hope there's enough of us to stop her.
In this last installment of the bestselling Captivated Series, follow Kat and Gabriel as they help prepare for battle against a conjurer who has become darker than anyone could have fathomed. Will their love be enough shine through it?
Some links unavailable due to KU enrollment requirements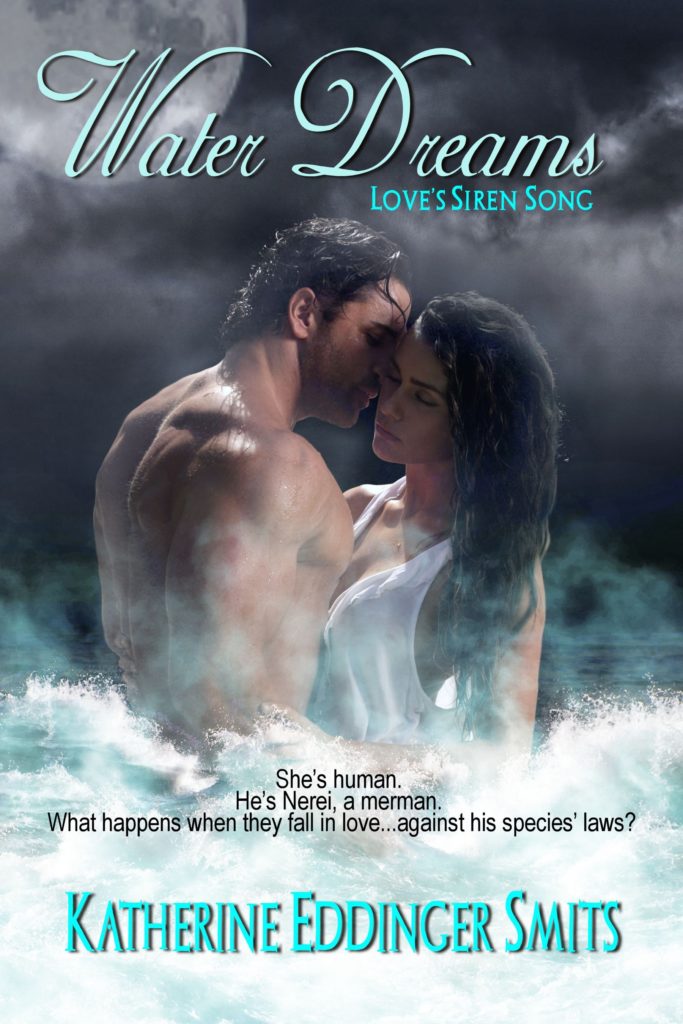 The Love's Sirens Song Series: Water Dreams, Book One
Katherine Eddinger Smits
She's human. He's Nerei. What happens when they fall in love against his species' laws?
In the small Florida town of Tarpon Springs, Nik Aronopulos avoids water like the plague. She never goes to the beach and shuns restaurants with views of the Gulf of Mexico. So, when a merman shows up at her doorstep, insisting they need to study her, she's stunned. There's nothing special about her…
…or so she thinks.
Bas is an arrogant, dark-haired merman tasked with obtaining Nik's cooperation at all costs, even if means being untruthful about the extent of the 'study' they need to conduct on her. But he's willing to do and say whatever he must. She's the Nerei's only hope at overcoming their greatest weakness. Although they can shapeshift to look like humans and have advantages over land dwellers, their dependence on water keeps them from freedom. There's just one problem – the girl he's meant to capture under false pretenses is hooking his heart.
When Bas is shot by a bullet meant for Nik, she must face her greatest fear to help him – the ocean. Her decision plunges her into a desperate journey where her desire for self-preservation, is weighed against her growing feelings for this merman who had once meant her harm…
…and what this might mean for all of them.
The Love's Sirens Song Series: Water Desires, Book Two
Katherine Eddinger Smits
When a strange Nerei carries an unconscious and badly injured Bas in from the Aegean Sea, Nik knows she must get him to an island in the Atlantic where a hidden spring of healing water will restore her Nerei (merman) lover. 
At the same time, her adoptive father is dying from a boating accident in her home town of Tarpon Springs, and he's asking for her. While battling a strange illness which antibiotics won't cure, Nik must figure out a way to save Bas and get home to help her father. When Bas follows Nik to Florida, he is forced to keep his distance from her. He has already escaped one death sentence for having a relationship with a human and he can't risk another one. Still, he's furious when Nik turns to her old friend, a mage Bas dislikes, to help her unravel the hidden truth behind her father's accident. Water Desires is Book II in the Love's Siren Song Series. 
The thrilling sequel to the award-winning Water Dreams will drag you under and not let you up for air until the end.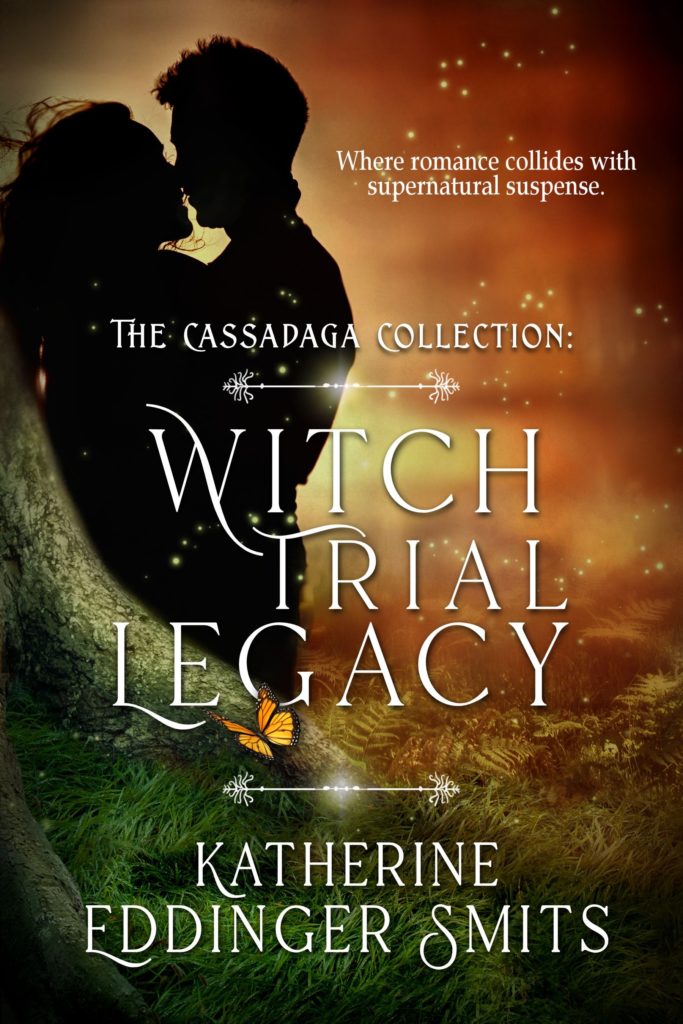 The Cassadaga Collection: Witch Trial Legacy, Book One
Katherine Eddinger Smits
Sybilla Sanborn must break a centuries old curse before everything she cares about goes up in smoke.
Sybilla is a nurse gifted with the ability to heal with her touch but cursed with visions of future tragedies she cannot prevent because no one heeds her warnings. With help from the mediums of the spiritualist town of Cassadaga, Florida, she learns she is descended from both the first person executed for witchcraft in this country and the man who accused her.
Conn Ahern is an Iraq war vet dealing with pain and PTSD while working as a paramedic and struggling to save the ranch his grandmother founded. He's an atheist who wants nothing to do with the people of the town. 
When Conn and Sybilla meet, sparks fly, but not always in a good way, and their relationship fans the flames of jealousy and revenge in someone who doesn't want them to work things out. 
During a seance, her ancestor's spirit reveals how Sybilla can rid herself of the curse and save Conn, but the price may be too high.